Corolla Surf School: 26 years of guiding new surfers
Since 1996 our goal has remained the same: we want to offer a safe, informative and fun surf class. All of our instructors are CPR certified by Corolla Beach Rescue and are highly trained to give the safest, most-effective, professional and fun lessons on the beach. We've taught over 25,000 lessons to date, and we have 2 decades plus of experience watching the weather, wave conditions and shifting sandbars that shape our surfing environment on the Northern Outer Banks. Maybe that's why we've been recommended by the New York Times and Fitness Magazine! We use the highest quality lesson boards in the industry. Our boards provide students with a wide and stable platform to surf.  Our surf instructors meet specific standards and our policy and procedures must stand the scrutiny of a yearly insurance review. Come join us out in the water. 

We Offer 4 Different Classes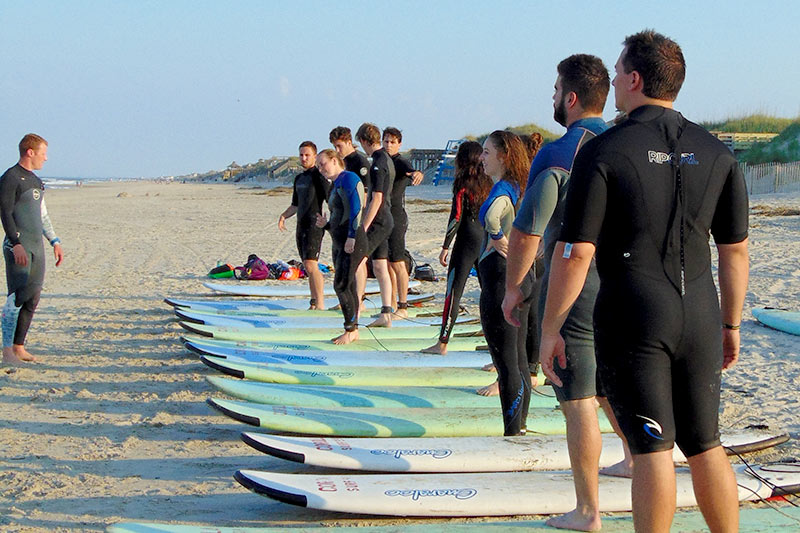 Introductory Surf Lessons
This is our most popular lesson. We focus on the fundamentals of surfing: water safety, paddling, catching a wave, popping-up (standing up), and balance. We provide all equipment needed, including a wetsuit and surfboard. We use soft (foam) round-nose surfboards that are great for safety and stability.
The lesson starts with land-based training that includes basic ocean safety (how to spot a rip current), surfboard safety (how to control your board), and surfing 101 (how to surf!) Then we hit the ocean! The instructor will be in the water with you the entire time. He or She will help you paddle into waves, adjust your technique and start surfing! Instructor-to-student ratio is 1 to 5. Length: 1.5 to 2 hours. Cost per lesson: $70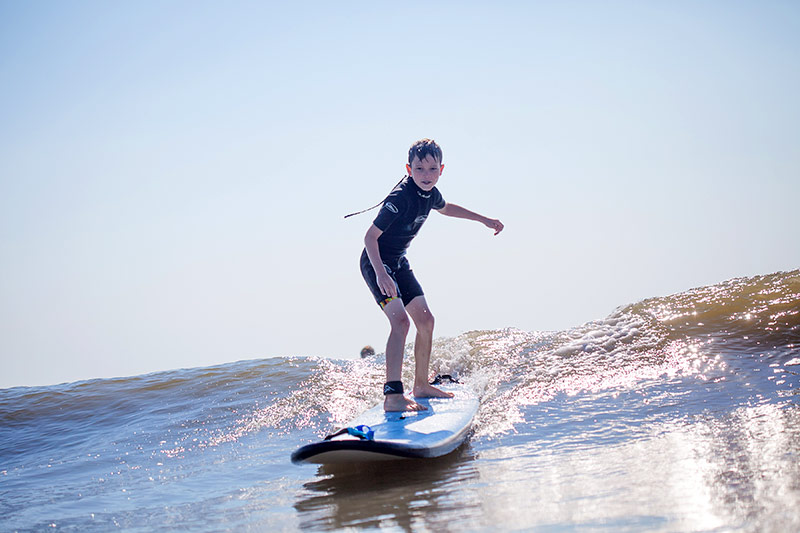 Private/Semi-Private Lessons
Private surf lessons include all the activities offered in the INTRODUCTORY SURF LESSONS  but are limited to one or two students. This is a great choice for students who prefer more individual attention or have specific skills they want to address. A private lesson proves to be a great option for the parent and child (or small group) who want more privacy, quality time and special attention.  Length: 1.5 to 2 hours .
Prices:
1 student: $150
2 students: $200.
** Stand-up Paddleboarding private classes are also available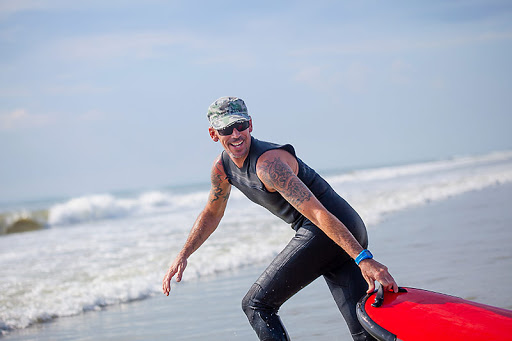 Special Attention Lessons
We are more than happy to accommodate any children or adults who need special attention. Students must be confident swimming in the ocean by themselves. Students will work one-on-one with the instructor in a PRIVATE CLASS in order to maximize learning, fun and safety. If a child or adult has any special needs, please inform us BEFORE you book the lesson so that we may have a class tailored just for you! (We also encourage family or friends to take this lesson with the student.)
How to Sign Up for Lessons:
On the Web: Click on Secure Reservation Form and fill out the LESSON RESERVATION FORM that appears, and you can reserve a lesson by using our secure site. We will e-mail you a confirmation.
 Over the phone: 252-453-WAVE (9283)
 In person: Stop by our shop in the Food Lion Shopping Center in Corolla.
For surf lesson questions please email: info@corollasurfshop.com
How it Works:
All lessons start at the Corolla Surf Shop location in the Food Lion Shopping Center, across the street from TimBuck2 Shopping Village. We ask that you show up 25 minutes before the scheduled lesson time in order to meet the instructors, get fitted for a wetsuit, sign the required waiver, and get detailed directions to the surf spot, (about a 5-10 minute ride)
What to Bring:
We provide all the equipment, including a surfboard (or paddle-board) and wetsuit. Students should bring a towel, bathing suit, water and sandals (the sand gets HOT!) You will then follow the instructor to the selected spot and begin your lesson!
Tips for Your Lesson:
We suggest lathering up with high-performance waterproof sunblock before you check-in for your lesson, so it has time to absorb into the skin. Cheaper sunblocks, or sunblock applied right before the student hits the beach, tends to bleed into their eyes and can inhibit their vision in the water, (and it stings!) We sell high performance sunblock, and the surf instructors give great advice as to what sunblock works the best. Bottled water is also a necessity.
For surfers with longer hair, we suggest a hair tie. For male surfers, we suggest wearing compression shorts (similar to bike shorts or swim team "jammers") under your bathing suit, to prevent chafing and make for a more comfortable wetsuit fit. 
Why Choose Us:
Summer surf on the Outer Banks, especially in Corolla, creates some of the safest waves for beginning surfers. In fact, Outside Magazine has ranked Corolla as one of the top 6 destinations in the US to learn how to surf! Long flat sandbars make it easy for both the student and instructor to walk the surfboard out into the ocean and for the students to take their first ride. We also offer Stand-Up Paddle-boarding lessons. It's the latest craze that is taking the surf and mainland communities by storm. It's a great way to stay in shape and experience some breathtaking views.
We take great pride in our surf lesson school, and we love what we do! The knowledge base that Corolla Surf Instructors pull from many years of experience. The Corolla Surf School was founded in 1996 with the goal of making the sport of surfing easy to learn, fun and safe. That goal has not changed. What we have understood over the years is that every person learns differently. Each surf student absorbs information and reacts to the elements differently than the next student. We adjust and adapt our curriculum to the specific needs of each student. Come surf with us!